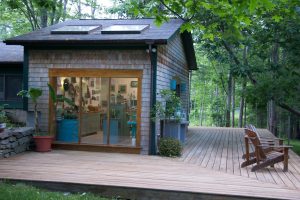 I'd like to welcome you to the portal page for my online gallery. But it's equally important to me that you know I'd also like to invite you to visit my physical gallery here in Hull's Cove, a small village next to Bar Harbor, Maine. It's only there where you'll find the fullest range of my current work on display. Plates, bowls, platters, dinner settings, tiles with natural motifs, Raku, Saggar Ware and glaze melts are featured.
The gallery is open from 11 AM to 4 PM Friday to Sunday; and is just three miles from downtown Bar Harbor. Click for a map and directions.
We're located in a quiet woodland setting just before the gated end of Breakneck Road, which leads into a secluded section of Acadia National Park. Breakneck Road, formerly known as the Intervale Road, was once the main thoroughfare for horse-drawn carriages coming across the island to Eden, now known as Bar Harbor. Today, Breakneck Road is a well-loved walking and bicycling path into a seldom seen, but beautiful corner of Acadia National Park here on Mount Desert Island. Beaver ponds, ledges, waterfalls, birch groves and brooks are scattered along a lovely walk which winds its way toward the two Breakneck Ponds. These magnificent elements of nature are an everyday inspiration for me.
My work, as found within these gallery pages, are divided up into four distinct series; each one with a voice of individual expression. Enjoy.